Server
This section contains functions for the Server or Game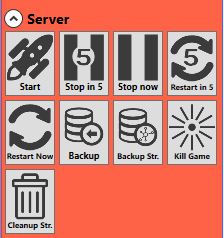 Start
Stop (Now/In 5 min)
Restart (Now/In 5 min)
Kill Game

Kills the game (server and playfield) process

Backup

Manually Backup the Save-Game
Cleans up old backups after 3 days

Backup Structures

Manually Backup off structures only (good for for Structure-Load from Backup)

Cleanup Structures

Cleans up the shared folder and deletes all obselete structures (they get never deleted by game)
You can also automatically start this with the timetable "Shared Cleanup"
It will list all structures and show how long the structure is gone and/or which files/data is missing.
The function will not remove active structures.
The column "Remove" will show you whish structures he will remove.
Click on "Remove Old" to remove all obselete structure files.