Master / Slave
The Master Slave area is only visible on Slave-Tools and allows you to change Master-Data or interact with the Master.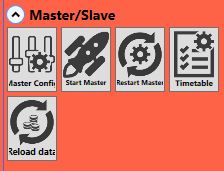 Master Config

Allows you to change the configuration of the master

Start Master

Starts the master tool if the Starter-Service is started on the Server

Restart Master
Timetable

Allows you to change the timetable of the master

Reload data

Reloads all data from the master. This might be helpful in case the communication broke down and your data is not up to date.
Normaly this is done automatically.